Leaders in Obesity Medicine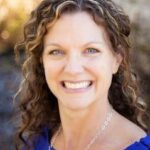 Courtney Younglove, M.D.
Dr. Younglove understands your battle with obesity.  She began her struggles with excess weight in adolescence.  Prior to getting her degree in Obesity Medicine and figuring out her body, she gained and lost the same forty pounds at least twenty times.  She is also a busy single mother of three boys and understands how tempting it is to forego healthy foods in order to get something on the table between school, work and obligations.  She brings her own personal life experience into the exam room along with her medical knowledge.  Dr. Younglove has a passion for living a healthy life and believes that everyone deserves the opportunity to live a life of wellness: physically, emotionally and mentally.
Dr. Younglove is board-certified in both Obesity Medicine and Obstetrics and Gynecology. She received her undergraduate degree from The University of Kansas in 1997 and her Doctor of Medicine from The University of Kansas School of Medicine four years later. She has practiced medicine in the greater Kansas City area for over 18 years and has practiced Obesity Medicine for the past five years. During the course of her career, Dr. Younglove has received many awards, including being named one of the "Best Doctors in America" the past five years, as featured in the Kansas City Business Journal.
---
Emily Gardner, APRN-BC
Emily understands the struggles excess weight can have on an individual. After having children, she struggled to feel like herself again physically, mentally and emotionally. She understands how easy it can be to fall in to the mindset of shame, guilt, and self-sabotage. Through this journey, she has learned how mindfulness, self-grace, positive affirmations, and accountability can be powerful tools to impact health.
In addition to being a board-certified Family Nurse Practitioner, she is working toward her certification in Obesity Medicine.  She has also been a Health Coach since 2016. Emily received her undergraduate nursing degree from The University of Kansas in 2009 and her Masters in Nursing from The University of Missouri-Kansas City in 2013. She has practiced medicine in the greater Kansas City area in Family Medicine and Urgent Care. 
Emily and her husband, Donnie, live in Olathe. They keep busy with their two young children. They enjoy spending time with family, cooking together, nature walks, hiking and traveling. 
---
Jill Holub, RN
Jill Holub RN, is the Nurse Educator and Health Coach for Heartland Weight Loss. She has many years of experience as a clinical nurse in Primary Care, Obstetrics/Gynecology and Obesity Medicine and works closely with Dr. Younglove to streamline and customize your weight loss journey.  During her years of nursing, Jill has witnessed the physical and emotional strain that obesity takes on patients' health and wellness, and understands the growing need for medical intervention.  Jill and her husband, Matt, live in Paola. They have three active boys and enjoy camping, fishing, football, gardening, four wheelers and vacations together.
---
Liza Blanc, Nutritionist and Kinesiologist
Liza Blanc earned her Bachelor of Science in Nutrition with an emphasis in eating disorders & Bachelor of Science in Kinesiology from Kansas State University. Liza has devoted her life to helping people create healthy and sustainable lifestyle changes while focusing on the person as a whole. Liza has 5 children, and 3 adorable grandchildren. Her family members keep her busy with school, sports, and church activities.
---
Teia Brown, MA
Through the years, Teia has seen both men and women struggle with health problems exacerbated by obesity.  After spending 30 years practicing as a Medical Assistant in the fields of both Urology and OB/GYN, she was drawn to the field of Obesity Medicine, hoping to work upstream in order to make a difference in people's health.  Teia is originally from Oklahoma and is a die-hard Sooners fan.  In her free time, she likes to spend time with her husband, 2 grown children, her new granddaughter (ask to see a picture!) and her dogs.
---
Check out some of the things we discuss in our office:
Send us an email with any questions you have:
Want to learn more?
Curious about us but not ready to become a patient?  Sign up to receive a free eBook about inflammation and weight and to learn more about what we talk about in our office every day!