Leaders in Obesity Medicine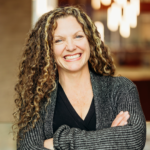 Courtney Younglove, M.D., FOMA, FACOG
Dr. Younglove understands your battle with obesity.  She began her struggles with excess weight in adolescence.  Prior to getting her degree in Obesity Medicine, she gained and lost the same forty pounds at least twenty times.  She is also a busy single mother of three boys and understands how tempting it is to forego healthy foods in order to get something on the table between school, work, and obligations.  She brings her own personal life experience into the exam room along with her medical knowledge.  Dr. Younglove has a passion for living a healthy life and believes that everyone deserves the opportunity to live a life of wellness: physically, emotionally, and mentally.
Dr. Younglove is board-certified in both Obesity Medicine and Obstetrics and Gynecology. She recently earned her fellowship in the Obesity Medicine Association – a designation earned by only 70 people so far!  She received her undergraduate degree from The University of Kansas in 1997 and her Doctor of Medicine from The University of Kansas School of Medicine four years later. She has practiced medicine in the greater Kansas City area for over 18 years and has practiced Obesity Medicine since 2015. During the course of her career, Dr. Younglove has received many awards, including being named one of the "Best Doctors in America" for five years, as featured in the Kansas City Business Journal.
---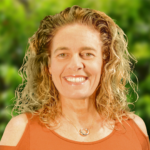 Maribeth Orr, D.O.,
FACOFP, DABOM
Dr.Orr is the medical director of our adolescent program.  Dr. Orr is incredibly passionate about treating families and empowering people of all ages to gain control over their health.  As part of her health journey, in addition to becoming board-certified in Obesity Medicine, Dr. Orr has thrown herself into the world of triathlons and weight-lifting and competes all over the country. She was recently named the women's overall champion at the Kill Creek Triathalon in Olathe!
Dr. Orr earned undergraduate degrees in kinesiology and nutrition from Kansas State University, received her doctor of osteopathic medicine degree in 2002 from Kansas City University of Medicine and Biosciences, and completed her family practice residency at Baptist-Lutheran Medical Center.  Prior to joining Heartland Weight Loss, Dr. Orr practiced primary care in Eudora, Kansas.  She and her husband live in Linwood, Kansas with their four children and a whole host of pets. When she isn't practicing medicine or winning triathlons, Dr. Orr enjoys traveling and reading.
---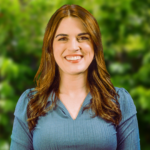 Maren Ozier, APRN, FNP-C
Maren obtained her undergraduate degree in Life Science and Gerontology at Kansas State University, then completed her accelerated Bachelors of Science in Nursing at Research College of Nursing. She earned a Masters degree in Nursing at The University of Missouri-Kansas City and became a board-certified Family Nurse Practitioner. Maren is currently one of only a handful of Nurse Practitioners in the state of Kansas to hold a certification of Advanced Education in Obesity Medicine. Maren is passionate about empowering and educating patients and understands the impact that mental health can have on physical health and wellness. She has experience working with patients of all ages, including during pre-conception and pregnancy. Maren and her husband live in Overland Park with their two cats, Zola and Nori. When not in clinic she enjoys traveling to new cities, reading, doing yoga, and attempting home improvement projects.
---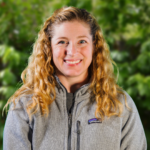 Alex Lee, DNP, FNP-BC
Alex began her nursing career in the neonatal intensive care unit and the operating room.  She returned to school to obtain her doctorate in clinical nursing and during her training, developed a passion for chronic disease prevention and treatment as well as mental health.  She wrote her doctoral dissertation about the association between poor wound healing in patients with diabetes and depression.  Alex and her husband, Ryan, live in Overland Park, Kansas with their dog, Scout and they just welcomed their first baby girl in May of this year!  When Alex isn't working or snuggling with her daughter, she enjoys gardening and all kinds of exercise.
---
Jackie Bauer, APRN, FNP-C
Jackie Bauer is a Nurse Practitioner from Wellsville, Kansas. She holds a Master of Science in Nursing degree from the University of Kansas. She has been practicing in primary care for thirteen years with a focus in obesity medicine since 2020, and is excited to specialize in Obesity Medicine with Heartland Weight Loss. Jackie and her husband Jake have two children. When she's not seeing patients, you will probably find her on the golf course, cheering on her children in their activities, or spoiling her dogs, and enjoys spending time with friends and family.
---
Jessica Scarlett, APRN, FNP-C
Jessica earned her Bachelor's of Science in Nursing degree at MidAmerica Nazarene University while competing as a collegiate softball player in 2015. She has always had a strong affinity for health and wellness. She began her nursing career in the operating room at the University of Kansas Health System. She participated in general, trauma, transplant, vascular and pulmonary procedures. After five years, she decided that she wanted to take her career further and make more of an impact in the community. She obtained her Master's of Science in Nursing degree at Rockhurst University and became a board-certified family nurse practitioner in 2021. After the completion of her degree, she became a clinical nurse coordinator at the University of Kansas Cancer Center in the radiation oncology department where she focused on pediatric oncology, adult sarcoma, and central nervous system tumors. She comes to Heartland Weight Loss with experience as a nurse practitioner in the field of internal medicine where she managed numerous chronic diseases and saw patients of all ages. She is very passionate about the patient experience and never wants her patients to feel like a number. She is excited to be able to spend more time with patients in helping them become stronger physically, mentally, and emotionally.
During her free time, you can find Jessica enjoying the outdoors with her two dogs: Max and Duke. Max (3) is a red heeler mix. Duke (9) is an Australian Shepherd/Corgi mix. She is a native of Overland Park, KS as she graduated from Blue Valley High School. She currently owns a home in Shawnee, KS.
---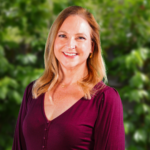 Liza Blanc, Nutritionist and Kinesiologist
Liza Blanc earned her Bachelor of Science in Nutrition with an emphasis in eating disorders & Bachelor of Science in Kinesiology from Kansas State University. Liza has devoted her life to helping people create healthy and sustainable lifestyle changes while focusing on the person as a whole. Liza has 5 children, and 3 adorable grandchildren. Her family members keep her busy with school, sports, and church activities.
---
Stacie Moody-McClung, Director of Operations & Office Manager
As a former patient of Heartland Weight Loss, Stacie understands the struggles and celebrations that come with becoming a healthier and happier person. She lost 65 pounds and has successfully maintained that, so she couldn't imagine a better opportunity than to join the team and help others along their journey. 
Stacie spends her free time volunteering with several nonprofits, including leading Get Your Rear in Gear – Kansas City, a local colon cancer prevention organization. She has made it her life's work to help people live better, healthier lives.
---
Teia Stone, RMA
Through the years, Teia has seen both men and women struggle with health problems exacerbated by obesity.  After spending 30 years practicing as a Medical Assistant in the fields of both Urology and OB/GYN, she was drawn to the field of Obesity Medicine, hoping to work upstream in order to make a difference in people's health.  Teia is originally from Oklahoma and is a die-hard Sooners fan.  In her free time, she likes to spend time with her two grown children, her two grandbabies, and her dogs.
---
Valerie Bartlett, RMA
Valerie has an incredibly diverse background.  In addition to being a full-time medical assistant, she is also a volunteer firefighter and EMT – and a mother of two kids.  Valerie spent most of her career in primary care before joining us at Heartland Weight Loss.  She is excited to be in a field that is focused on improving chronic disease – instead of simply treating it.  Valerie and her family live in McLouth, Kansas.
---
Lexi Howell, CNA
Lexi earned her CNA from Neosho County Community College. She started working as a CNA in 2018 at a nursing home and enjoys helping and caring for people. In her free time she likes to go RZR riding, camping, and spending time with her family.
---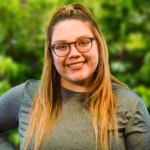 Lauren Gaskey, Receptionist
Lauren recently earned her associate's degree from JCCC and is excited to enter the workforce in a field that means something to her personally.  Like so many of us, Lauren has struggled with excess weight since childhood.  She understands the emotional struggles that our patients experience when they come through our front doors.  When Lauren isn't flashing her big smile at our patients (behind her mask, of course), you will probably find her outdoors somewhere – fishing, kayaking, camping – or hanging out with her boyfriend, his daughter, and her cat, Winifred.  
---
Abbey Schwartze, Receptionist
Abbey extensively studied life sciences and medicine in college as a nursing student until she switched gears and pursued her Bachelor's of Arts in Psychology with an emphasis in Mental Health from Avila University. Her background in the field of healthcare, both educational and professional, fuels her drive to help others in the pursuit of their goals and keep their focus on the positive. She is excited to be working in a field that gives her the opportunity to make such a difference in the lives of others. During her free time, Abbey likes to stay active outdoors, play Dungeons & Dragons with her friends, work on her sci-fi novel, or try cooking new recipes from different cultures around the world.
---
Julie Norman, Receptionist
Julie earned her degree in Business Administration and has followed that role in her career for 30+ years being an Office Manager and handling HR for 25 of those. She loves being in a customer service roll where she can talk to people. Hopefully you will get to speak to her when you call in the office and she can help you with anything you need.
When she is not at work, she enjoys spending time with her husband Brad, and their family cat Tigger. But their most precious times are with their 4 sons, 2 daughter- in-laws, and their 3 grandchildren. On most weekends you can find them at their lake house or spending time with family & friends.
---